1. What is psychotherapy and what are its benefits
Psychotherapy is a process of treatment that involves talking with a trained mental health professional to address psychological issues and improve emotional well-being. Psychotherapy can help people learn about themselves and their relationships, set goals, and make necessary changes to improve their lives. There are many different types of psychotherapy, but all share the common goal of helping people feel better. psychotherapy can provide relief from distress, help people understand and cope with difficult life events, and provide tools for making lasting changes. psychotherapy is often considered a first-line treatment for many psychological problems, and research has shown that it can be effective for a wide range of issues. If you are considering psychotherapy, it is important to find a therapist who is experienced and licensed in your state or province. psychotherapy is an investment of time and money, but the benefits can be long-lasting.
2. How does psychotherapy work and who can benefit from it
Psychotherapy is a type of therapy that focuses on helping people to change their thoughts, feelings, and behaviour. It can help treat a wide range of mental and emotional disorders, such as depression, anxiety, post-traumatic stress disorder (PTSD), and substance abuse. psychotherapy can also be used to help address relationship issues, grief, and other life transitions. psychotherapy typically involves meeting with a therapist regularly to discuss challenges and progress. While psychotherapy can benefit people of all ages, it may be particularly helpful for young adults as they navigate the challenges of adulthood. In addition to traditional face-to-face therapy, psychotherapy can also be delivered via Zoom.
3. What to expect during a psychotherapy session with a therapist
When beginning psychotherapy, it is common to feel both excited and nervous. This is understandable, as psychotherapy can be a deeply personal experience. However, it is important to remember that therapy is a professional relationship between you and your therapist. This means that your therapist will provide a confidential and nonjudgmental space for you to explore your thoughts and feelings. During sessions, you can expect to discuss topics such as your childhood, relationships, and anything else that may be relevant to your current situation. In addition, your therapist may give you tools to help manage difficult emotions or situations. Ultimately, the goal of psychotherapy is to help you live a more enjoyable and fulfilling life.
4. The different types of therapy available
Psychotherapy is a unique and individualized process that helps people explore their thoughts, feelings, and behaviors in order to achieve desired personal growth. The therapist-patient relationship is built on trust, empathy, and mutual respect. psychotherapy can take many different forms, but all share the common goal of helping people improve their mental and emotional well-being.
There are many different types of psychotherapy, each with its own specific focus. Some common types of psychotherapy include cognitive-behavioral therapy, humanistic therapy, psychodynamic therapy, and family therapy. Cognitive-behavioral therapy focuses on changing negative thinking patterns and maladaptive behaviors. Humanistic therapy emphasizes self-awareness and personal growth. Psychodynamic therapy explores the role of unconscious processes in shaping thoughts and behaviors. Family therapy helps families communicate more effectively and resolve conflict.
The type of psychotherapy that is most effective for a given individual depends on many factors, including the nature of the problem or concern, the individual's personality and therapeutic style preference, and the therapist's experience and training. psychotherapy is a journey of self-discovery and growth, and the therapist serves as a guide on this journey. With the help of psychotherapy, people can learn to cope with life's challenges in more healthy and productive ways.
5. How to find the right therapist for you
psychotherapy is a process where someone affected by psychological distress or mental illness attends regular sessions with a psychotherapist to help them understand and manage their feelings, emotions, and thoughts. The word "psychotherapy" comes from the Greek psychē, meaning "soul" or "spirit," and therapia, meaning "healing." In order to be effective, psychotherapy must be conducted by a trained and licensed psychotherapist.
There are many different types of psychotherapy, each with its own set of theoretical orientations and approaches. Some common types of psychotherapy include cognitive-behavioral therapy, interpersonal therapy, and psychodynamic therapy. When choosing a psychotherapist, it is important to find one who uses an approach that you feel comfortable with and who you feel you can trust. You may also want to consider the psychotherapist's training, experience, and credentials.
If you are considering psychotherapy, the first step is to schedule an initial consultation with a psychotherapist. During this meeting, you will have the opportunity to ask questions and learn more about the psychotherapist's approach. This will help you determine if the psychotherapist is a good fit for you.
Meet your Psychotherapist
Psychotherapy is a process that can help you understand your thoughts and feelings, make changes in your life, and develop new skills. It can be an effective treatment for many mental health conditions, as well as for personal growth or self-exploration. If you're considering psychotherapy, it's important to do your research to find the right therapist for you. There are many different types of therapy available, so take the time to find one that feels like a good fit. And remember, it's okay to ask questions before booking your first session – I want you to feel comfortable working with me. Are you ready to start on this journey? Book your first session today.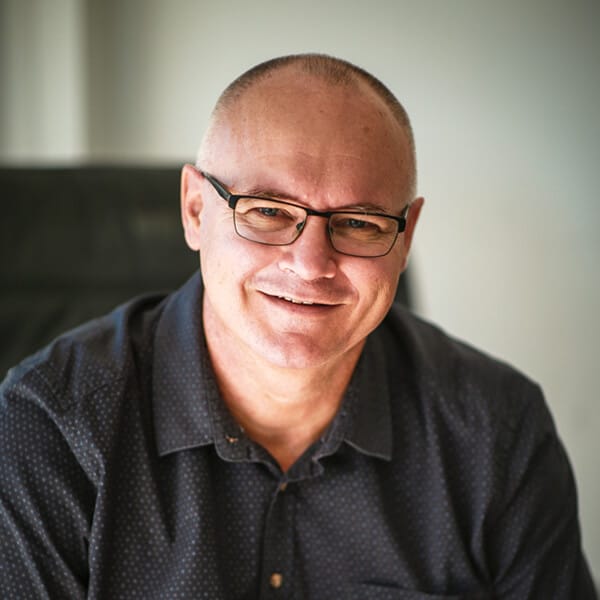 Paul Smith - Psychotherapist
Clinical Hypnotherapist Strategic Psychotherapist Consultant, Trainer & Assessor
Paul Smith is an experienced clinical hypnotherapist, strategic psychotherapist and business consultant.
Paul owns a busy private practice in Norwest, Sydney, with Rebecca Smith and is a clinical specialist in treating anxiety, sleep, behaviour and self-esteem issues. He is passionate about assisting others to improve their lives through therapy, teaching, and consulting.
Paul also has over 25 years of experience as a technical business analyst and business consultant. He has helped thousands of clients, business owners and start-ups create wealth through process, efficiency, and mindset optimisation.
His unique insight into the human mind and psychology results from his training and experience in Cognitive Behavioural Therapy, conversational hypnosis, and Neuro-Linguistic Programming. He is well known for his systematic yet profound approach.
Paul also has years of experience as an accredited Trainer and Assessor and offers a unique and engaging approach to learning – Paul has a way of making complex subjects easy to learn and understand.