FINALLY, overcome Anxiety with Hypnosis
The way you are feeling now is NOT something you have to live with.
Regardless of how long you have struggled with anxiety
The world for someone with anxiety isn't easy. You've probably tried to deal with it in many ways. I have a feeling you have had a long journey to get here, where you probably weren't taken seriously in some cases.

I take every one of your feelings so seriously. And let me just say, you've got what it takes to escape the grip of anxiety for good. You just need a helping hand from to get there.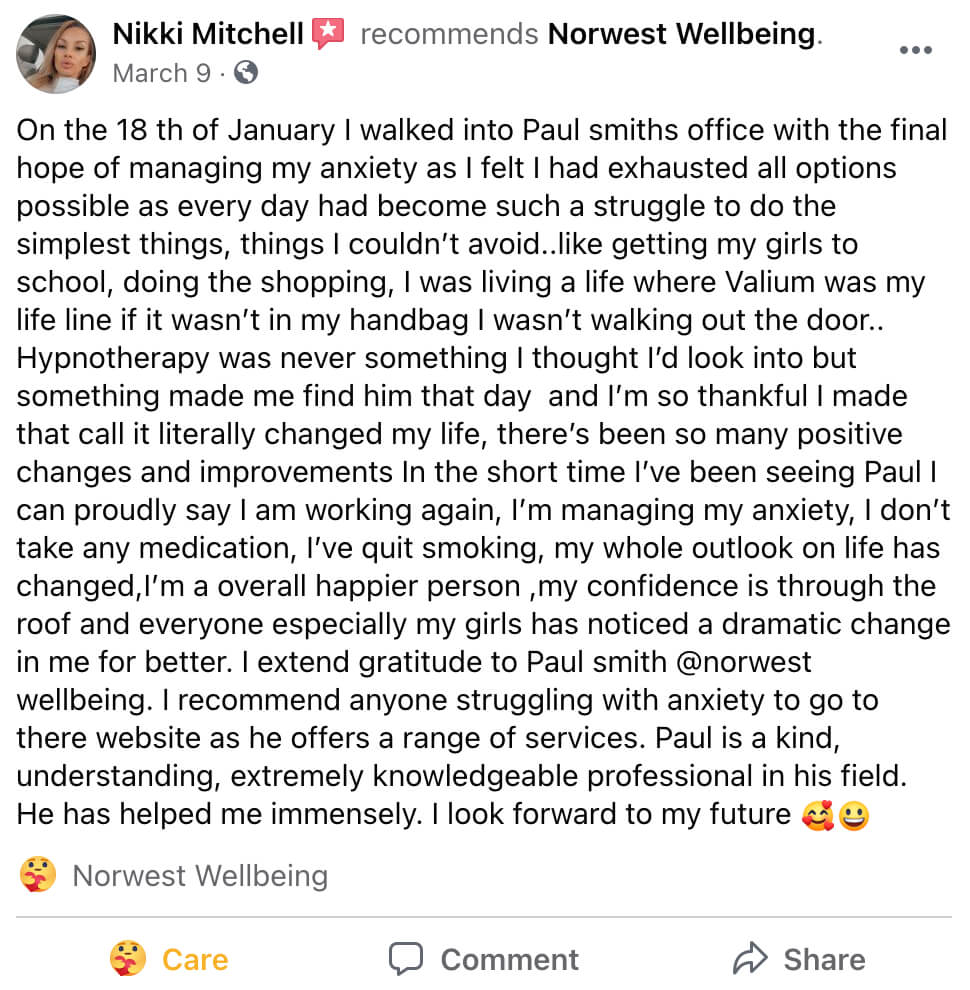 Only just had my second session with Paul but the effects after the first session were immediate and noticeable. This is my first time trying hypnotherapy after years of anxiety and depression. Usually these are fairly well managed but I recently had a period of extreme stress and needed something else to help me get out of some anxious cycles resulting from that. I'm so glad I found Paul. What he does definitely works. Having hypnotherapy in my back pocket makes me feel a lot more confident about my mental health going forward.
Paul is sincere and logical. His approach is both warm and no nonsense. I have thoroughly enjoyed seeing Paul and would recommend his services to everyone.
Hi, I'm Paul.

I'm a clinical hypnotherapist and the owner of Norwest Wellbeing.
Throughout my career, I've had the privilege of bringing comfort, control, and confidence to hundreds of patients struggling with anxiety.
While I am qualified enough to do traditional therapy, I often find this old process takes too long and often doesn't affect the real underlying issue. Instead, the Hypnosis Protocol is a life-changing experience straight away.
Just like your Dentist or Psychologist, I am a clinical professional in the health industry. We all need our certifications, and I have mine.
Real people, real results
I have gone through so much in my life. I had nowhere to turn to. Paul was the best thing for me and transformed my life to positive. He helped me through my problems. I recommend Paul and his team to everyone. It was the best thing I ever did. I'd like to take this opportunity and thank Paul. I can't thank you enough for everything you have done for me. You were the best thing in my life. Thank you
I have had four sessions with Paul now, and it has made such a big difference in my life. My anxiety is now completely under control, and I feel like a new person. Thanks, Paul!
I had a hypnotherapy session with Paul Smith yesterday and I honestly can not recommend it/him enough. Paul instantly made me feel comfortable. He explained the process extremely well and let me know it was okay 'not to get it' at first. I liked the fact that the first part of the session was spent talking through the process and my reasons for being there in a state of consciousness, as I was able to fully wrap my head around the process. The last part of the session (going into a trance) was also extremely powerful. Paul recorded the session so I am able to listen to it 2-3 times per week, whenever I feel like I need to. I would recommend this to anyone looking to fix an issue in their life. Best decision I have ever made.
What a great experience. Paul's knowledge and understanding around anxiety and depression is a gift.
Stop Feeling Trapped In Your Own Life When You Should Be Enjoying It
You might feel like you have to avoid a certain thought or situation because of the fear and worry around it? Or once in that situation… you might feel that crushing weight in your chest, uncontrollable sweating, or heart racing in panic mode. These are just a few of the symptoms many of my patients frequently used to have.
You may feel this way too. It's unfair, and it's not your fault. But what if you didn't have to feel that way anymore?
To do that, we have to address the root of the issue: the mind's overthinking, replaying, and validation of false worries.
Traditional Methods Are Missing The Mark
As a trained and experienced clinical hypnotherapist and psychotherapist, I understand exactly what you're experiencing and it pains me deeply to see so many people who use traditional methods continuing to struggle because they're treating the symptoms, not the cause.
There is a large and growing body of research that says hypnosis is the best tool for rewiring the way our consciousness interacts with our behaviour.
This is because while in a hypnotic state, your inner-mind is much more plastic and able to change. This happens when you are fully absorbed in something, fully relaxed, and separate from any negative feelings. (This happens naturally from time to time when you space-out or day-dream)
David Spiegel, MD, professor and associate chair of psychiatry and behavioural sciences at Stanford University said: "In fact, it's a very powerful means of changing the way we use our minds to control perception and our bodies."
Norwest Wellbeing's Hypnotherapy Does More
Hypnosis does what no other treatment does: It corrects the thoughts that create panic by treating the trauma that caused them. Done in a clinical therapy setting, hypnotherapy blended with psychotherapy expertise so you can:
What This Program Means For Your Life:
This all takes place over two sessions. Your first session is up to 2 hours so we can spend extra time on discovering what the issues are and how we are going to help you resolve it. Subsequent sessions required may vary person to person and are an hour long.
No two sessions are the same, as no two people are. We use hypnosis strategically based on your specific feelings and history, whatever they may be.
If you're tired of your anxiety taking over your life and you are ready to find relaxed control over your mind
Click the button below
The only thing you have to lose is anxiety
Here's what you need to do next
The process begins with you
Book your FREE 15 minute strategy call to get started on your path towards a happy and healthy life.
Real people, real results
I'm so keen to meet you and help you
become anxiety free, and love the process
Can anyone be hypnotised?
Most people can, but not everyone. How effective it is in one session depends on the person's suggestibility. Suggestibility is a combination of concentration, intelligence, and a vivid imagination. It also works increasingly better the more times you have been hypnotised. (This is why we record your session for you to reuse when needed)
What is the hypnotic state like?
This is also called a "trance", it simply means that you are so absorbed in something that you are fully relaxed, and separate from any negative feelings. This happens naturally from time to time when you space-out or day-dream.
Is hypnotherapy real? And if so are you the real deal?
Absolutely, and there is a large and ever-growing body of research to support its benefits. In it's dramatization on TV and stage-performance over history, it has been represented as a forceful mind-control where those hypnotised are unaware of their actions. In reality, the person being hypnotised is always in full control of the situation.
Just like a Dentist or Dermatologist, I am a clinical professional in the health-field. We all need our certifications, and I have mine:
✓ I have been qualified and practicing conversational hypnotherapy and hypnosis since 2016, and was recently recertified.
✓ I am accredited with Australian hypnotherapy association (the largest in the country). 
✓ I am an NLP Practitioner, and an Emotional Intelligence Certified practitioner.
Are your services covered by any Private health funds?
We do work with insurance providers. Our Association gives us a health-fund provider number. Not all health funds participate, but depending on your health fund, you have the opportunity to get a rebate back on your session.
Does this have to be done in person?
We do offer our services over the TeleHealth platform, but we primarily do sessions face-to-face.
If you're sick of making excuses
and you're ready to make a permanent change
Here's what you need to do next
The process begins with you
Book your FREE 15 minute strategy call to get started on your path towards a happy and healthy life.